Article is from realtor.com/ As Markets Wobble, Will We See a Wave of Reverse Mortgages?
By Tiffani Sherman | May 4, 2020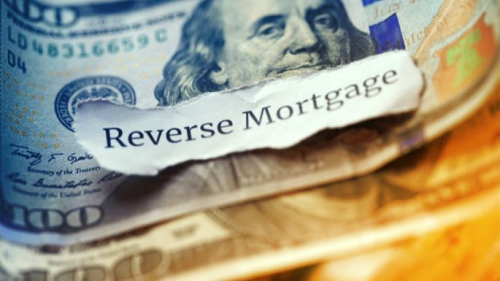 Note: This is the first time I have interjected my opinion on an article written by an author. Because some points are so vague or slightly misleading, I wanted to clarify them, so my opinion is in bold black type within the article.
Over the past three months, the stock market has been on a roller coaster. Investment portfolios have followed suit, which could be particularly concerning for those who are counting on those funds for retirement.
For those close to retirement, a lack of savings may mean monthly expenses go unpaid. As a result, retirees may be considering a reverse mortgage to bring in much-needed cash.
"Retirement accounts have been suffering under the macroeconomic conditions that we see out there today. People are looking at the use of home equity to absorb some of those shocks in their retirement plans," says Steve Irwin, president of the National Reverse Mortgage Lenders Association.
NRMLA data shows an uptick in consumers who've taken the initial step and completed the financial counseling needed to proceed with a reverse mortgage. Irwin says counseling sessions in the month of March were up 25% compared with the year before.
Before homeowners can apply for a reverse mortgage or complete a final application, they must complete independent third-party counseling, he notes, adding that those counseling sessions are up significantly in the first quarter.
Historically, those counseling sessions had to be done in-person, but because of the COVID-19 pandemic, some states have allowed online sessions.(Andrew Wallace opinion: As a former Certified HUD Counselor for reverse mortgages. There has never been a hard fast requirement counseling had or has to be done in person in all states. There are currently a handful of states where the reverse mortgage counseling is required in-person by law passed by that particular state. I have counseled by phone from Arizona to Maine, Hawaii, Alaska. So counseling is currently conducted by phone in all 50 states is nothing new but for the states which have state statutes requiring face to face counseling. FYI Arizona does not have a state statute requiring face to face counseling.}
Reverse mortgage basics
Since the first reverse mortgage in 1990, over a million have been issued and currently about 550,000 are outstanding, according to the NRMLA. Unlike a forward mortgage, in which you pay down a loan to live in your home, a reverse mortgage draws from the equity you've built up in your home.
To qualify for a reverse mortgage, you must meet the following criteria:
Be aged 62 or older
Own your property outright or owe a small amount on a traditional mortgage
Live in the home as your primary residence
Not be delinquent on any federal debt
Meet with an approved counselor
Most reverse mortgages are backed by the Federal Housing Administration as part of the Home Equity Conversion Mortgage program. Once approved, a borrower can withdraw funds as a lump sum, a fixed monthly amount, a line of credit, or a combination of these options. The loan comes due when the last borrower either moves out or dies.( Andrew Wallace opinion there are rules in place to protect qualifying non borrowing spouse to stay in the home. If the heirs want to keep the home by obtaining a new mortgage to pay off the reverse mortgage, they can get a mortgage for 90% of home value. There are other rules in place to protect heirs of a reverse mortgage borrower.)
And although the instant hit of cash may be a welcome development, the homeowner is still responsible for other monthly payments.
"Keep in mind with reverse mortgages ... you still have to have the financial resources to live in the house," says Mary Bell Carlson, the accredited financial counselor behind the Chief Financial Mom. "You're going to be living in the house, you still owe the property taxes, you still owe the insurance, the HOA, and all the maintenance on the home while you're living there." ( Andrew Wallace opinion: the same applies for a forward mortgage there are property taxes, insurance, HOA dues and maintenance on the home. So, any borrower be they a forward or reverse must have the financial resources to live in the home. A financial Assessment is a HUD requirement the reverse lender must perform for a reverse mortgage borrower and there must be residual income after all the bills are paid. }"
One other note: As with a traditional mortgage, there are fees and upfront costs. ( Andrew Wallace opinion So what is different ? NOTHING there are fees and upfront costs on any mortgage.)
Is now a good time for a reverse mortgage?
Keep in mind, a reverse mortgage will hand you money, but the lender uses the equity in your home to give you that money.
"The amount of funds available through a reverse mortgage are calculated based on the age of the borrower, or in the case of a couple, the youngest person's age, the home's value, and the interest rates in effect at the time," Irwin explains. "The lower the interest rate, the greater percentage of equity that can be made available."
Currently, interest rates are at historic lows.
"We understand a lot of people have been looking at the reverse mortgage and just haven't decided whether or not to move forward. But they understand that responsible use of home equity can absorb different shocks to people's income streams," Irwin says.
Another pandemic-related factor in play? Nursing homes and assisted-care facilities aren't exactly an appealing option in the current climate. This may partly be why some seniors are opting to stay put in their own homes.
"We know that people want to age in place, and I think many senior homeowners who may have been considering moving or moving to a care facility are almost hesitant and reluctant to go anywhere right now," says Irwin.
Before contemplating a reverse mortgage in the current environment, you must consider if you can still pay the expenses that come with owning a home. Lower interest rates will mean more cash in your hand, but if you don't have funds set aside to cover needed repairs, maintenance, and other expenses of homeownership, pause for a moment to filter out your best option.
"A [reverse mortgage] doesn't mean that [borrowers] just live scot-free in the home. They still have to have some kind of cash flow to keep up the home, and they can't let the home fall into complete disrepair. That is a violation of the contract, and they could lose the house for that," Carlson says.(Andrew Wallace opinion: As stated earlier a forward borrower also must have a residual cash flow to keep up the home.)
Irwin says the answer depends on each homeowner's situation.
"This is an individual case-by-case decision, and we want to ensure that it is a decision that's carefully considered and discussed with trusted advisers and family members. But from strictly the available amount of proceeds given the current interest rate, yes, it is a good time."
The future of reverse mortgages
Irwin says he expects more seniors to look at reverse mortgages as the pandemic-fueled financial crisis continues.
"It's a needs-based transaction. They need to augment their financial stability," Irwin explains. "They need to augment whatever retirement funding they have in place, or they need to relieve themselves of the burden of monthly principal and interest payments of a regular mortgage. I think that we will see more and more the use of the reverse mortgage as part of a more comprehensive financial plan in retirement."